Are you overwhelmed by the number of subjects you think you ought to be teaching your children each day? Me too. Any time I use the would "ought" or "should" I'm usually going to end up overwhelmed. So how do I get through a bunch of subjects quickly and calmly? Through a strategy that doesn't actually have a name at my house, but lots of other homeschool families that use it call it morning time, circle time, morning basket, and so on.
What is Morning Time/Circle Time/Morning Basket, etc.
In its most basic form, it's a time for the family to gather together and read stories, sing songs, recite poems, read books, and do other lovely and useful things. It's a little like bedtime story time, but turned up to 11. (If your family bedtime stories are a disaster, please don't fear. You can still have a successful morning time!)
You can include whatever you want in your morning time. Here is the list of things we do:
Daily

Sing a hymn or primary song
Family scripture study (Come Follow Me)
Family prayer
(Here is where Dad goes to work)
Learn an Article of Faith
Read the next month's hymn text as a poem so the children learn and understand it
Read a poem
Sing a folk song or a Russian song
Recite a scripture or a poem

Weekly (one each day)

Composer study
Picture (artist) study
Geography
Nature study
Whatever else I want to make sure we accomplish
You may notice that there aren't any recognizably "academic" subjects on that list. No math, history, phonics, etc. Many families include those subjects in their morning times, but I like to start the day off with all the beautiful and spiritual things. It sets a better tone for our school days (probably because it helps me feel more centered). I haven't actually timed how long it takes us to get through that list, but it's not very long. Probably 25 minutes for all of those subjects.
I know some families whose morning time lasts 1.5-2 hours. They do all their history reading together, and their family read aloud, and maybe a science lesson or something. It works especially well for large families. Since we only have one school-aged child, a more basic morning time works really well for us.
I put together some menus (like you find at the best out-of-the-way family restaurants) for our morning time. They include printouts of our hymn, poem, folk song, etc. I'm really the only one who uses it thus far, but it's been helpful for me! Here's an example: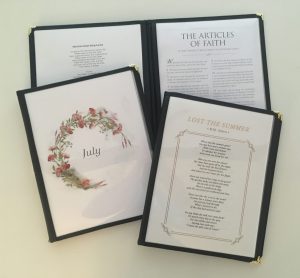 Some companies offer morning time menus as a pack that you can just buy with all the poems and songs and everything already included. Google "morning time plans" for lots of ideas, free printouts, and packs you can buy.
After morning time we start in on our academic work. First is usually a reading from a history book, then math, phonics/reading, a literature reading, recess, and then handwriting. Handwriting is the most dreaded subject around here, so we put it last. School lasts 1.5-2 hours total on a typical day of second grade.
Questions? Please ask. 🙂