I had a very difficult time deciding how to display our school maps in our home. I'm not exaggerating when I say that it took years for me to figure it out.
After my son's first grade year was over, I realized that we hadn't done much map work. Oops. We hadn't done it because the maps weren't up and accessible. Long story short, necessity became the mother of invention and we finally got the maps up! Here's what we came up with.
We got hooks and installed them on the wall. We installed grommets on our maps. We hung the grommeted maps on the wall hooks.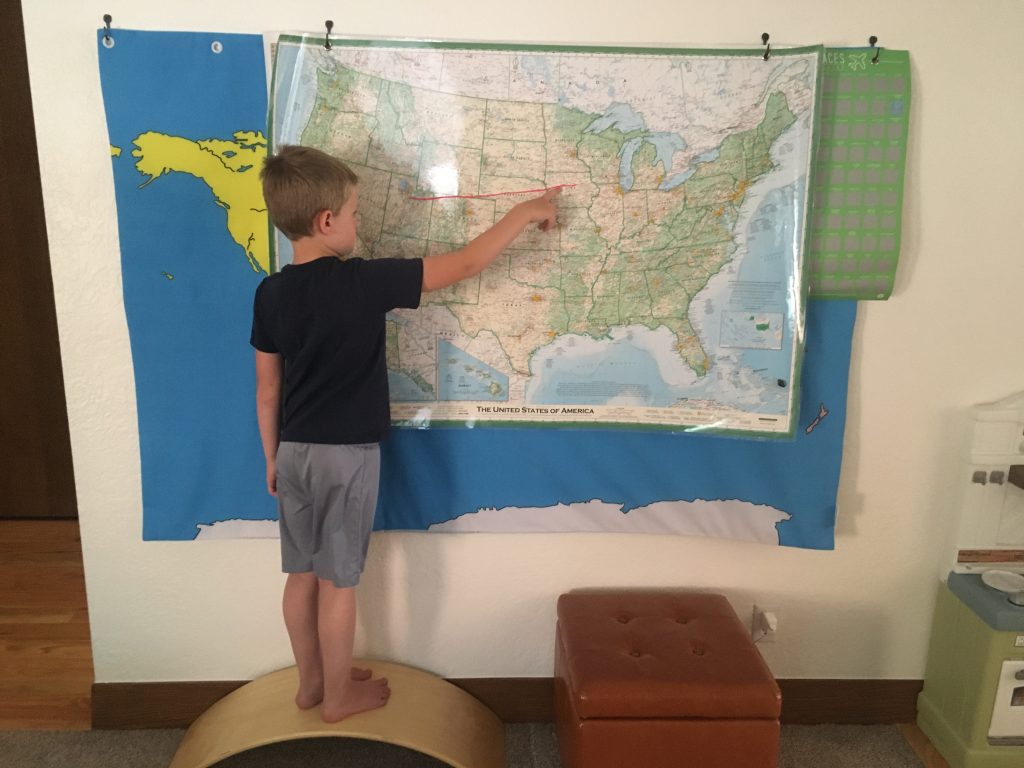 It's such a simple solution. I just wish I'd come up with it years sooner! I am 100% happy with it. As you can see, we have a lot of maps. (There's another laminated world map under the US map, but they're the same size so you can't see it.) Here are some of the features that I really love: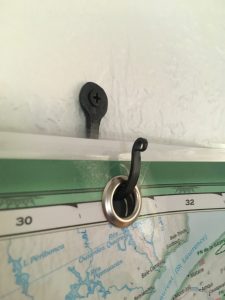 We can store all the maps in the same place.
We can take them off the wall easily if the children want to work on the floor.
We can take the maps down if people are coming over and we don't want our decor to scream "school room."
I was able to use maps that I already had.
If I don't want the children to have to climb on stuff to reach the maps, I just need to add some twine between the hooks and the grommets and the maps can be any height I want.
I ordered the hooks from Etsy. I bought a little grommet kit from Amazon (these are 1/2 inch grommets). I am not a handy person, but this project was really easy. Morgan did have to use a drill and I had to use a hammer, but we survived. 😉
Here is a list of all the maps and stuff, just in case you'd like more information:
Maps
The US map is an award-winning map made by master cartographer David Imus. It was given to us as a gift and we love it. It is truly a work of art. Read more about it here, or purchase the map (there's a 2-for-1 deal right now on the 1st edition map—two laminated maps for $39.99, shipping included).
The huge cloth map is a map that was made by FAO Schwartz, but has since been discontinued. You can find some on Ebay and Etsy. (Or you could make one if you have those skills.)
Hardware
I bought these hooks from Etsy. You can get hooks anywhere, just make sure the end of the hooks can fit through the grommets that you choose.
I bought a little grommet kit from Amazon (these are 1/2 inch grommets). The Amazon listing has a video that shows you how to install the grommets. It's easy (and even a little fun).
Other
On the picture with just Henry, you'll see there is a little pink line connecting Utah with Iowa. Those are WikkiStix. They are wax covered yarn and are great for lots of things, map work included.
On that same picture with just Henry, you can see a black roundish shape just off the Bahamas. That's a magnet. There's one of the other side of the map as well. We used them to weigh the maps down and keep them from curling. These are hematite magnets.